Raro Video Will Release
I CANNIBALI (THE YEAR OF THE CANNIBALS) from director Liliana Cavani (The Night Porter)
with a music score by Ennio Morricone
in New HD Transfer on Blu-ray and DVD
available on

January 14th
NEW YORK, NY - December 17, 2013 - Raro Video is proud to announce the Blu-ray and DVD release of I CANNIBALI (THE YEAR OF THE CANNIBALS), a unique updating of the Sophocles tragedy "Antigone", directed by Liliana Cavani (The Night Porter) and starring Pierre Clementi, Britt Eckland and Tomas Milian. The film features a music score by celebrated composer Ennio Morricone. Raro brings the film to Blu-ray and DVD in a new HD transfer.
I CANNIBALI comes to Blu-ray and DVD, digitally restored, with a street date of

January 14, 2014

, and a pre-order date of December 10, 2013. The SRP for the Blu-ray is $34.95, and the SRP for the DVD is $29.95. Special features include an interview with the director (26:16), the original theatrical trailer, new and improved English subtitle translation, and a fully illustrated booklet about the film.
On the streets of a damp metropolis lie the corpses of hundreds and hundreds of boys and girls. No one can give them a resting place because of a law enacted by a repressive State. But the young Antigone, with the help of a foreigner, Tiresias, violates this rule in the name of pietas, undermining the established order. I CANNIBALI, the third feature film by Liliana Cavani, starring a trio of excellent actors (Pierre Clementi, Britt Ekland and Tomas Milian), is a modern reinterpretation of Sophocles' tragedy, made during the protest years of 1967-69. A film that stands out for its visionary intelligence, in the context of Italian "political" cinema.
For more information on I CANNIBALI, or to request a press screener for review, please contact Matt Barry at (212) 629-6880 or mbarry@kinolorber.com.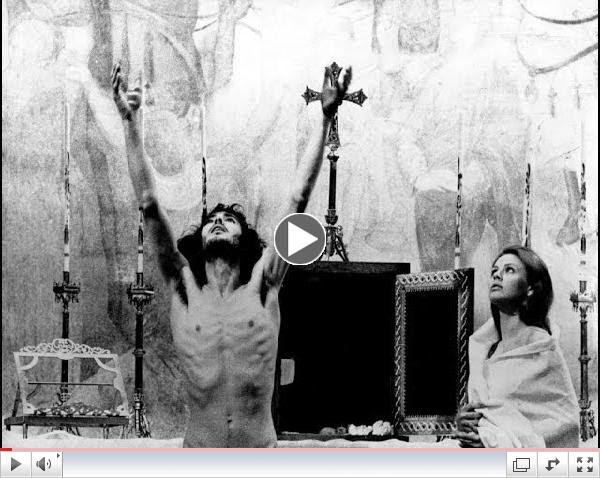 I CANNIBALI (The Year of the Cannibals) original Italian Theatrical Trailer
SPECIAL FEATURES
Interview with the director (26:16)
Original theatrical trailer
New and improved English subtitle translation
Fully illustrated booklet
TECHNICAL DETAILS:
Price: $34.95 (Blu-ray) $29.95 (DVD)
Street Date:

January 14, 2014


Running time: 87 min.
Distributor:

Kino

Lorber
Language: Original Italian with English subtitles
Rating: Not Rated
Aspect Ratio: 2.35:1
Audio: Dolby Digital 2.0 Mono
Color: Color
Country: Italy
Year: 1969
Genre: Drama
CREDITS
Director: Liliana Cavani
Screen writers: Liliana Cavani, Italo Moscati
Producers: Enzo Doria and Bino Cicogna for Doria-San Marco Film
Cinematography: Giulio Albonico
Editing: Nino Baragli
Music: Ennio Morricone
Cast: Pierre Clementi (Tiresia), Britt Ekland (Antigone), Tomas Milian (Emone)
ABOUT RARO VIDEO
Stefano and Gianluca Curti started Raro Video Italy in 1999. Dedicated to digital restoration of films from a wide range of genres, bypassing any stylistic boundaries, the company has earned an outstanding reputation for the quality of its high-definition transfers. Its releases are also known for their supplemental content as well as the critical analysis and superb booklets that accompany each film. The firm opened its U.S. headquarters in Minneapolis, Minnesota in 2010. Raro Video U.S. is a subsidiary of Gruppo editoriale Minerva/Raro, which is owned by Minerva Pictures, a 50-year old production and distribution company that continues to make films and boasts a catalog of more than 1,000 films.
Directors featured in the Raro Video catalog include: Federico Fellini, Michelangelo Antonioni, Pier Paolo Pasolini, Luchino Visconti, Roberto Rossellini, David Lynch, Derek Jarman, Shinya Tsukamoto, Rainer Werner Fassbinder, Jean-Luc Godard, Werner Herzog, Lars von Trier, Lucio Fulci, Mario Bava, Francesco Barilli, Tinto Brass, Jean Cocteau, Pedro Almodóvar, Martin Scorsese and more.
Available now from Raro Video U.S.: The Vanquished, The Clowns, The Anger, Live Like A Cop, Die Like A Man, Body Puzzle, The Visitor, Come Have Coffee With Us, The Overcoat, Murder Obsession, The Secret of Dorian Gray, Crime of Love, Young, Violent, Dangerous, Steam - The Turkish Bath, The Night of the Devils, Madness, The Automobile, To Be Twenty, Conversation Piece, The Perfume of the Lady in Black, Plot of Fear, Waves of Lust, Ubaldo Terzani Horror Show, The Fernando Di Leo Crime Collection Vol. 1, The Fernando Di Leo Crime Collection Vol. 2, Shoot First, Die Later, Hanging for Django, Il Generale Della Rovere, and Nightmare City.
ABOUT

KINO

LORBER
Kino

Lorber is a leading distributor of classic, independent and foreign cinema for over 30 years. With a library of 800 titles, the company releases annually over 25 films theatrically and 70 titles on home media on its 5 house brands.

Kino

Lorber also distributes a growing number of complementary third-party labels on packaged media, and is a direct distributor to all major digital platforms.