Scorpion Releasing and Kino Lorber announce the release of STRIPPED TO KILL, an '80s exploitation classic directed by Katt Shea Ruben and executive produced by Roger Corman. This sexy thriller set in the world of LA strip clubs was called "A gritty little exploitation picture in the best Roger Corman tradition" by Kevin Thomas in Los Angeles Times.

STRIPPED TO KILL comes to DVD on December 9th with a SRP of $19.95 in a brand new HD master in 16x9 (1.78:1) widescreen from the original IP, with special features including audio commentary with director Katt Shea and star Kay Lenz, on-camera interviews with Katt Shea and Roger Corman, and the original trailer.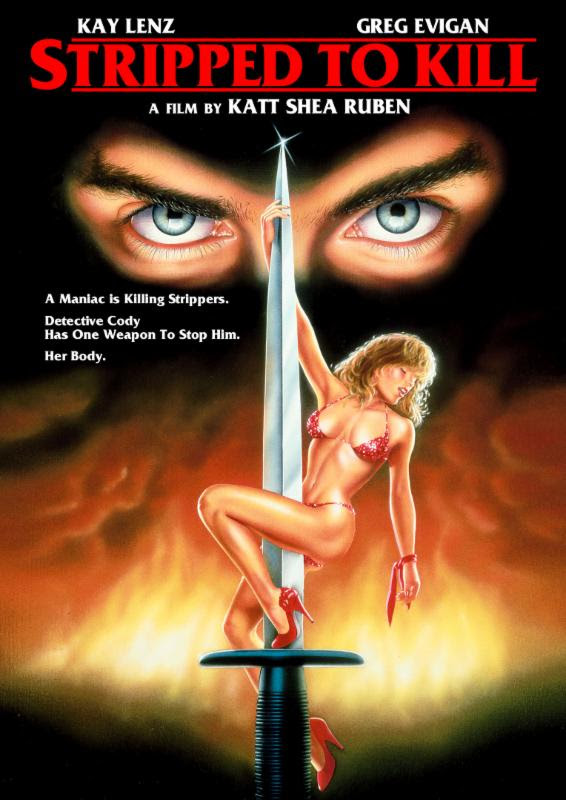 STRIPPED TO KILL (1987)
Brand New HD Master
Color/1987/87 mins./Rated R/English Mono/Anamorphic Widescreen (1.78:1)
Director: Katt Shea Ruben
Starring Kay Lenz, Greg Evigan and Norman Fell
Synopsis: When one beautiful Rock Bottom dance club performer is found dangling by piano wire from a bridge, and another dies in a fiery inferno, and yet another dancer has been dragged 100 miles from the bottom of a truck - something is dead wrong! And Detective Cody Sheehan (Kay Lenz,Breezy, White Line Fever, Great Scout and Cathouse Thursday) is determined to get to the bottom of it. To solve the case, Sheehan infiltrates the club's tight sorority of dancers and goes undercover -- uncovered -- as a performer. To her immense surprise, she learns that stripping holds a powerful allure for her, and her professional and personal lives have taken on shocking new dimensions. A relentless journey toward a murderer's soul, STRIPPED TO KILL will lead you down dark and dangerous Los Angeles streets few will ever know - and you may never forget! Also starring Greg Evigan (BJ and the Bear, My Two Dads) and Norman Fell (Three's Company), and directed by acclaimed director Katt Shea (Poison Ivy, Carrie 2,Streets), now watch this exciting thriller from a brand new HD master!
Bonus Features:
- Brand New HD Master in 16x9 (1.78:1) widescreen from the original IP
- Audio Commentary with Director Katt Shea and Star Kay Lenz
- On-Camera Interviews with Katt Shea and Roger Corman
- Original Trailer