BAT PUSSY (1973)
A new 2K transfer of

BAT PUSSY from the only 16mm theatrical print in existence on Blu-ray

October 17th 2017
Alamo Drafthouse's American Genre Film Archive, the largest non-profit genre film archive in the world, and Something Weird are excited to announce an

October 17, 2017

release date for the BAT PUSSY Blu-ray. After a successful Kickstarter campaign in 2015, AGFA purchased a 4K film scanner to create new digital transfers of titles from the Something Weird library. BAT PUSSY is the second release of dozens in this partnership, following THE ZODIAC KILLER. Fans of trash cinema will be able to snatch up a copy of BAT PUSSY from a variety of retailers following its release, save for one: mega-retailer Amazon.
"We're thrilled that our Blu-ray release of BAT PUSSY has been banned by Amazon," said AGFA director Joe Ziemba. "It's reassuring to know that truly outlaw exploitation filmmaking is still alive and kicking -- even if it's forty years old."
Considered to be the first X-rated parody, BAT PUSSY is as lurid and tasteless as its title implies. Put another way: It's mess-terpiece of your wildest dreams... And also your most horrifying nightmares. The citizens of Gothum City are under attack by smut filmmakers and only one hero can help! Bat Pussy (Dora Dildo) hangs out in her secret headquarters (aka an outhouse). When her "twat begins to twitch," warning her of imminent crime, Bat Pussy hops on her Holy Hippity-Hop to foil the grotesque sex schemes of un-happily married couple Buddy and Sam! The unidentified lunatic filmmakers of BAT PUSSY have never been located, providing further proof that this movie was most likely made by extraterrestrials.
To celebrate the release, AGFA and Something Weird will present a world premiere screening of their new transfer of BAT PUSSY at Fantastic Fest in September, with Something Weird's Lisa Petrucci in person.
"Having BAT PUSSY restored and released on Blu-ray is just gawd-damn crazy," said Petrucci. "Out of all the films AGFA could have chosen for it's second collaboration with Something Weird, this one is unexpected and will come as a shocker to most genre fans. Needless to say, this pleases me."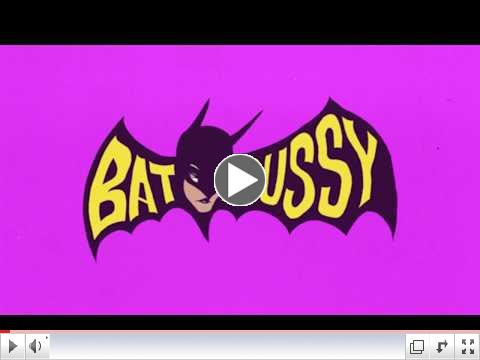 Special Features:
- New 2K scan from the only surviving 16mm theatrical print
- Commentary track with Something Weird's Lisa Petrucci and Tim Lewis, and the AGFA team
- Crime-smut trailers and shorts from the Something Weird vault
- Liner notes by Mike McCarthy, the savior of BAT PUSSY, and Something Weird's Lisa Petrucci
- Bonus movie: ROBOT LOVE SLAVES (1971), a new 2K scan from an original theatrical print
- Reversible cover art with illustration by Johnny Ryan (PRISON PIT)